I found this adorable tutorial for a Valentine Tic-Tac-Toe game. This tutorial shows how to make it using a sewing machine, but you could probably make this with craft glue if you don't sew.
This would be a great project for you and your child, or as a gift. Not feeling so good, and stuck in the house? Play a game of Tic-Tac-Toe!
Materials:
White Felt
Red Felt
Brown Felt
Pink Felt
Red Ric-Rac or Ribbon
Pinking Shears
Sewing Machine
Matching Thread
Tic Tac Toe Tutorial – Click Here!
Tic Tac Toe Games on Amazon – Click Here!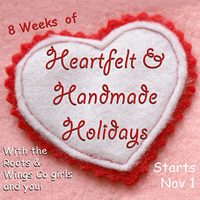 ---