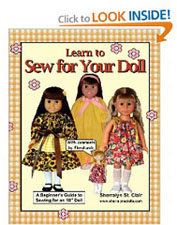 Learn to Sew for Your Doll: A Beginner's Guide to Sewing for an 18″ Doll
By Sherralyn St. Clair
Publication Date: April 9, 2012
Paperback: 78 pages
If you would like to teach a special child how to sew, this book presents a series of skills in a learning sequence that takes the new seamstress from the first use of a sewing machine through making an attractive wardrobe for a doll. The book gives the student a place to start and then builds on the initial skills.
This book includes instructions and full size patterns for 18″ doll clothes.
Measurements are given in both US and metric units.
Stitching bookmarks introduces machine sewing and zigzagging.
Beginning fabric skills are taught with simple projects to sew bed clothes for a doll. While sewing a doll bed cover, pillow, and pillow case the student learns to recognize the right and wrong sides of fabric, and to find the straight of grain, cross grain and bias of fabric. Skills in tearing fabric and cutting along a pulled thread are taught.
The student then moves on to sew an attractive wardrobe for an 18″ doll
Sundress
A-line skirt
Shorts
Two-tiered skirt
Smock top
Nightgown
Skills taught include
Pattern reading and cutting
Machine stitching
Finishing seams
Gathering
Sewing casings
Topstitching
Hemming
Attaching closures
These books are a great way to introduce sewing to beginners. A great companion for the first sewing machine. This list shows the Top 10 Best Sellers in Learning to Sew Books, based on sales, and is updated every hour.
Learn To Sew For Kids
Happy Sewing!