I Love! Love! Love! these gift ideas!
Any one of these beautiful casserole/pie carriers would make a great housewarming gift, or something special for a friend during the holidays. Take it one step further (or even two or three steps further depending on your budget), and add a dish and a decorative bag of ingredients, with the recipe attached. Isn't that a great gift idea? Wouldn't you love to receive a gift like that? I know I would!
These Casserole and Pie Carriers are the perfect tote along for holidays and events. If you're showing up somewhere with a homemade dish, you'll want to keep it warm and ready to eat.
Check out these casserole carrier patterns at Amazon.com – Click Here!
I also found the following websites with free instructions. Maybe you'll find one you like.
Casserole and Pie Carrier Pattern – Click Here!
---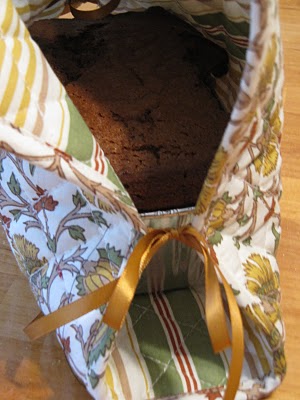 Turn your ordinary placemats into something new with the Placemat Casserole Carrier. Whenever you need to take a cooked dish somewhere, this casserole cozy will be useful. Plus, it's easy and fun to make!
Easy Placemat Carrier Pattern – Click Here!
---
If you're traveling with a dish, keep the food warm until it's time to eat. With the Cozy Toter casserole carrier pattern you'll have a great sewing project that's useful and easy to make.
Cozy Toter Pattern – Click Here!
---
Casserole Tote: Everyone needs a handy Casserole Tote for family gatherings and parties. This casserole carrier pattern features fabric handles and easy open flaps. Make this sewing project and you'll love the results.
Casserole Tote Tutorial – Click Here!
---

Casserole Carrier: Looking for a free casserole carrier pattern? This Casserole Carrier will come in handy for potluck dinners, events and parties. With a solid handle, you'll be able to take this useful craft anywhere!
Casserole Carrier Instructions – Click Here
---
Insulated Casserole Carrier: You'll find yourself needing an Insulated Casserole Carrier at some point this Summer. With all the picnics and parties coming up, don't get caught without the proper casserole carrier. Follow this sewing tutorial and create the useful craft.
Insulated Casserole Carrier Tutorial – Click Here!
---
Check out these casserole carrier patterns at Amazon.com – Click Here!
---
And don't forget the casserole recipes – Click Here!
---
Casserole & Pie Carriers on Amazon.com – Click Here!
---
Reversible Quilted Casserole or Pie Carrier – How-To Video
This casserole carrier is a great sewing and quilting project that makes a wonderful gift. Even better, add a nice casserole dish and favorite recipe.
Materials Needed:
2 pieces of fabric 22″ x 22″ one each in contrasting colors or designs
2 pieces of 100% cotton fiberfil 23″ x 23″
1 strip of fabric 5″ x 22″ (this is the strap, so choose color that will complement both sides of the carrier)
2 pieces of fabric 4.5″ x 7″ (choose same color as the strap)
rotary cutter and mat
ruler
marking pen/pencil
pins
sewing machine
walking foot attachment (optional)
iron and ironing board

Follow the instructions in the video for quilting, or do your own free-motion quilting if you like.
This will fit up to a 13″ round plate as well. If you want a larger carrier, adjust all of the measurements.
Don't forget to make one for yourself!
Happy Sewing!
---
The following two tabs change content below.
My mother used to make our clothes when we were little. I would help her thread the sewing machine needle. That was the beginning of my love for sewing. I have many memories of my mother and the projects that we created. Here's to you creating many sewing projects and some beautiful memories of your own.